A couple of months ago I invited four of my clients who are breastfeeding with low milk supply to my home for coffee, cake and chats (I wrote about it in this blog http://latch.ie/breastfeeding-with-low-milk-supply-experiences/ ) . What was apparent to me afterwards is that there is a need for some kind of ongoing facilitated group support/therapy for mothers who have low milk supply or are having a particularly difficult time breastfeeding.
I know that there are many wonderful breastfeeding support groups out there – Cuidiu, La Leche League, Friends of Breastfeeding and the PHN-run breastfeeding support groups. These groups are much needed and provide valuable support and information to breastfeeding mothers all over the country. I volunteered as a breastfeeding counsellor myself with Cuidiu for many years. However, what I am finding in my work as a lactation consultant in private practice, is that there are many mothers who simply will not attend these groups. They may be breastfeeding and supplementing or may be finding breastfeeding extremely challenging, and feel that being around mothers who are having an easier time feeding their babies would be difficult for them. Often they feel very isolated in dealing with their breastfeeding challenges. And this sense of isolation can impact on their mental health.
My colleague Nicola O'Byrne IBCLC had mentioned to me previously that she would love to set up a support group for her clients, because like me, she is seeing the mothers who are struggling and who need support. So, along with Meabh-Anne McNamara IBCLC, we decided to set up a monthly support group for our clients who need extra support. We decided to call the group the 'Purple Hearts Group' and the first one was held last Friday 29th November 2019.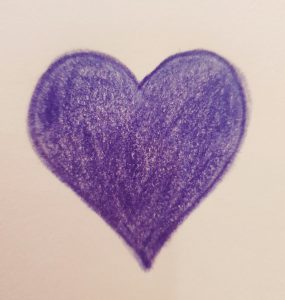 We sent invitations out to 10 clients we have worked with who we felt would benefit from attending the group. All 10 clients accepted the invitation, and booked and paid the €10 fee online. The meeting was held in a room we rented in the Taney Parish Centre in Dundrum.
We had a loose plan for the group – that we would give every mother an opportunity to talk about her experience in a safe and supportive environment. And to be honest, we weren't quite sure how it would work out. But each mother opened her heart to the group and shared her experiences and her biggest challenges and spoke about her feelings, and cried. Luckily Nicola had brought a box of tissues with her, and I think by the end of the session it was empty! Complex and deeply felt emotions spilled out – grief, sadness, trauma, fear, anger, loneliness, guilt and disappointment. And yet, by the end of the 2 hour session all that could be felt in the room was kindness and empathy and an almost palpable flow of oxytocin. I think everyone felt a little bit lighter. The mothers showed incredible kindness to each other, and perhaps in the process, went a little way to being able to feel more kindness and compassion to themselves (one of the themes that came up during the course of the session was guilt – guilt for giving their babies formula, for not being able to 'exclusively breastfeed for 6 months', for not trying hard enough) .
The other thing that really struck me about the mothers who attended is their strength and their absolute determination to continue feeding their babies and protect their breastfeeding relationship, despite the challenges they have faced. They have all worked so hard. Why? Because breastfeeding matters to them, in some cases, more than they ever imagined it would.
One of the mothers who attended the group later posted on Instagram (@amomamomgmen) and described the group as "the most supportive, inspiring, emotional gathering of women that I have ever been to."
And she said that that she walked away "a little bit healed but a whole lot empowered."
After the group Nicola set up a WhatsApp Group for the mums so that they can, if they wish, stay in contact and continue to support each other. And as far as we are aware this is what they are doing. I heard on the grapevine that some of the mothers met up yesterday for coffee!
While the session was a positive experience for the mothers who attended, it was also good for Nicola, Meabh-Anne and myself. Private practice work can be lonely. We are not always able to 'fix' breastfeeding. We deal with a lot of difficult and emotionally fraught situations, and we carry a lot. But running this group gives us an opportunity to regularly connect face-to-face with each other, learn from each other, feel less alone and to continue to do better for all the families we work with.
We are so thrilled to have gotten this group up and running and we hope it will provide much needed support for our clients who are breastfeeding with challenges over and above the usual challenges that many mothers face.
Please Note: The Purple Hearts Breastfeeding Support Group is only open to clients of Nicola, Meabh-Anne and myself.
*I do home visits in South Dublin and clinic visits at The Rowan GP Clinic in Churchtown.
*Nicola teaches breastfeeding classes and sees clients in South Dublin. Her website is https://www.breastfeedingsupport.ie/
*Meabh-Anne lives in Maynooth and sees clients in Kildare, Dublin, Meath and Westmeath. Her contact details are: (087) 2421066, meabhanne@eircom.net